Cal-K-Leb (Author)
Talk

1
13,080pages on
this wiki
Cal-K-Leb's FanFictions
An over confident teen with a lot of creativity.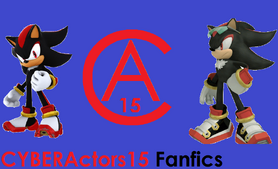 CyberActors15 Mostly does crossover Fanfictions
CyberActors15 Fanfics InformationEdit
RepresentativsEdit
The main representative for CyberActors15/Cal-K-Leb isShadow the hedgehog.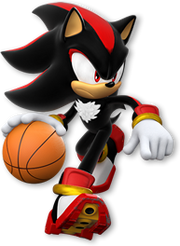 Shadow appears in most of the fanfictions to give information and be a Character. Shadow aslo is known to give moments of Comedy in the fanfictions.
Other Sonic Representative

s

Edit
These other Charcters will sometimes say some thing and they are grouped in the form of who is the most important
Miles 'Tails' Prower
Knuckles the Echidna
Amy Rose
Reps from other Series Edit
Danny Phantom (Danny Phantom)
Dani Phantom (Danny Phantom)
Mario (Super Mario)
Luigi (Super Mario)
Kevin Levin (Ben 10 Ultimate Alien)
Ben Tennyson (Ben 10 Ultimate Alien)
Jake Long The American Dragon (American Dragon Jake Long)
Rose the Huntsgirl (American Dragon Jake Long)
Toph Beifong (Avatar Last Airbender)
Avatar Aang (Avatar Last Airbender)
Bolin (Avatar Legend of Korra)
Avatar Korra (Avatar Legend of Korra)
Spider-Man (Marvel Universe)
Kid Flash (DC Universe)
Train Heartnet (Black Cat)
Cody (Street Fighter)
Percy Jackson (Percy Jackson and The Olympians)
FanfictionsEdit
CrossoversEdit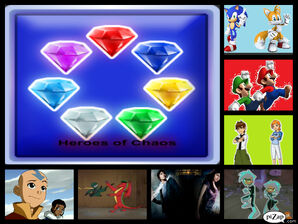 Multiple Heroes and their Sidekicks are taken out of their dimentions so that they can be used for an evil purpose. But they instead decide to work together and fight their villains and the powerful witch. The Main Characters are Sonic the Hedgehog, Miles 'Tails' Prower, Mario, Luigi, Ben 10, Gwen Tennyson, Danny Phantom, Dani Phantom, Percy Jackson, Annabeth Chase, Jake Long, Rose, Avatar Aang, Katara.
Sonic the Hedgehog and Percy JacksonEdit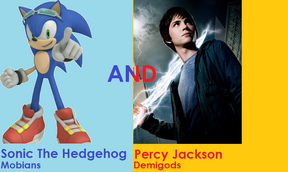 Sonic and his friends get transported to the World where Percy Jackson lives and they have to work together to make sure that Eggman and Gaia don't take control over the two worlds and the universe.
Bakugan Sonic BrawlersEdit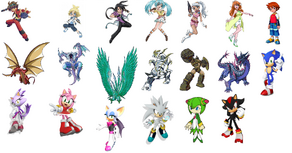 Sonic and His Friends get telleported to an alternate universe where the mobians become Bakugans. They have to battle against Eggman, Naga and their army to save the three worlds.
Plain Sonic FanfictionsEdit