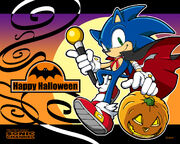 Halloween (or Hallowe'en) is an annual holiday observed on October 31, primarily in the United States, Ireland, and Canada. It has roots in the Celtic festival of Samhain and the Christian holiday All Saints' Day, but is today largely a secular celebration.
Common Halloween activities include trick-or-treating, wearing costumes and attending costume parties, carving jack-o'-lanterns, ghost tours, bonfires, apple bobbing, visiting haunted attractions, committing pranks, telling ghost stories or other frightening tales, and watching horror films.
Sonic and his friends also takes part in Halloween, during 1999 SEGA released a patch for Sonic Adventure, Station Square hoasted a Halloween party at Twinkle Park. There is also unlockable costumes in Sonic Adventure 2 with unclockable Halloween (and Christmas) costumes as well as Sonic Channel with Halloween wallpaper and pictures of Sonic.
Such haunted zones are halloween in theme as they usually have ghosts or robots disguised as phantoms, usually with jack-o'-lanterns. Pumpkin Hill being a prime example.
Sonic Fanfiction
This article is a stub. Everyone tends to spend Halloween there own way, with friend or family, trick-or-treating or some event. Some are not at all bothered with it. Some also have certain adventures during Halloween themed on it's spookiness.
Various fan games may have Halloween themes and extra's during late October for Halloween. Sonic the Werehog being the primary and temporarily unlockable character for the event.
Story
Mystic never really had much of a Halloween life and never went trick-or-treating due to his protected upbringing until he began his own adventures. Coincidentally he usually ends up somewhere haunted around this time of the year out of interest or heroics. Pumpkin Hill, because of it's pumpkins, jack-o-lantern themes and the fact that it's haunted make it a great location for Halloween and Mystic tends to end up there for Halloween get togethers.
There will be content that can be accessable during late October for two-player mode such as monster costumes and Pumpkin Hill level-clone as a playable 3D stage. Sonic the Werehog may also be accessable for Halloween.
In October and November, players can access Halloween exclusive boards and bikes. They will get a track 10-pack including Hallow Castle, Graveyard Towers, Hang Castle, Mystic Cave, Mystic Mansion, Skeleton Station, Indigo Mountain, Howl Desert, Wolf Forest, and Thunder Lab. Sonic the Werehog can be accessed in late October and early November.