Mira the lioness

Biographical Information
Age
24
Relatives
Alias
Purple Goddess (tribe nickname)
Romantic Interests
N/A
Physical Description
Species
Mobian Lion
Gender
Female
Description
???
Attire

Casual wear: Purple pants and blue shirt
Tribe Wear: little to almost nude while having tribal paint over most of the body

Political Alignment and Abilities
Affiliations
Good.
Weaponry
Swords, daggers, Claws
Abilities
Any Dark magic can be used.
Super Forms
Dark Mira, Goddess Mira
Other Information
American V.A.
N/A
Japanese V.A.
N/A
Theme Song(s)
N/A
Appearances
None
Original Creator
Bio
Name: Mira
Age: 24
Backstory: a simple and lovely Lioness with a shrine and a set of Dark power emeralds that her tribe has protected for many generations. Her fur shows her potential for becoming a very beatiful woman in her tribe because its said that a Lioness with purple fur and blue streaks of hair is said to be a goddess among them but the stories never showed lies but they have yet to be clairfied.
Abilities
Full transformation
Dark Magic
Dark Weapons
Relatives
???
Relationships
???
Apperance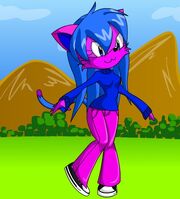 Ad blocker interference detected!
Wikia is a free-to-use site that makes money from advertising. We have a modified experience for viewers using ad blockers

Wikia is not accessible if you've made further modifications. Remove the custom ad blocker rule(s) and the page will load as expected.