Pearl The Echidna
Talk

10
13,196pages on
this wiki

If Mom and Dad could see us now, I'm sure they'd be proud...and also concerned about the city we're living in.


— Pearl The Echidna
Basic Info
Full Name
Pearl Anino Corliss
Relationship Status
Single
Appearance
Color
Pink fur
Purple hair
Biographical Info
Birthplace
Station Square
Personal Info
Likes
Cooking, Flowers, Parties/Get-togethers,
having everything in order.
Dislikes
Insanity, people in her room unless they're invited or
if it's Smash, Sleazy people around her, Toads.
Other Info
Pearl is a 21 year old echidna and the little and only sister of Smash The Echidna. She currently lives with Smash, and also stays at thier old house in Green Flower Zone to look after it. She plans to stay there after she gets married, however, she has no idea when she will. Her brother had gotten married and had three children, making her an aunt. Her family is surprisingly large for a family of echidna's, a race that suffered a huge blow to it's population after the incident with Chaos. Although her parents died when she was young, she still has her grandmother, her uncle and cousins. She also has an adoptive daughter, named Sandy.

Character © to Yusef1992/Smash The Echidna/Frost1992. In order of the usernames on Youtube, Myspace, and Deviantart, respectively. Smash The Echidna is also a member at SonicFanon.wikia.com.
Looks
Pearl's fur is pink, but her hair is purple. She has blue eyes, like her brother. Her long hair reaches down just below her tail. Her outfits may vary, but her main one is a lightblue shirt with a deep blue skirt. She wears deep blue boots with a cyan stripe going across them. She also wears blue bracelets around each wrist. She sometimes wears lime green ones, too. They look like they could be Elemental Rings, however, they are just regular bracelets.
Personality
Pearl is generally a kind and sweet girl. She's very outgoing and loves to chat. She may seem hard to anger, however, she absolutely despises it when people try to hit on her. Mainly due to the fact that she gets all of the "Sleazebags". Although she's very outgoing and somewhat excitable, she's very shy around people she likes. She used to like Knuckles The Echidna, but she's decided to move on. It is unknown how he feels about her though.
Strengths and Powers
Pearl possesses the same types of skills as Smash, and is almost as good as he is. She trains with him a lot
more often than she used to, and is now almost as physically powerful as he is. She can mimic his moves almost exceptionally well. She and Smash have trained together so much, they know each other's styles almost too well. They can read each other's movements,

and learn what the other is about to do. Because of this, when fighting together, they can dish out moves in almost complete sync. In fact, this is one specific thing that they've been practicing over the years, aside from trying to get her to achieve High Tension; which Pearl eventually learned on her own.
Like Smash, Pearl has some hidden potential in her. In fact, It is possible that she has even greater potential than Smash himself. She only has two known super forms. Power Pearl, with the power of the Chaos Emeralds, and Shining Pearl, the form she obtains when Light Smash shares his power with her. She is also capable of bringing out her energy like Smash, in the form of High Tension.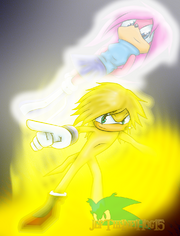 Interestingly enough, her High Tension state doesn't change any of her visible features. She simply takes on a light pinkish aura, while her body glows white. While she can use High Tension, she hasn't fully mastered it yet, and can only really use it to boost the strength behind her attacks. Smash has at least taught her how to conserve her energy to let it last longer than a minute. 
When she transforms into Power Pearl, She doesn't have a powerful aura surrounding her like most super forms do. She instead gets a soft glow surrounding her, giving her a bit more of a graceful look. Her fur flashes light pink, almost like Super Knuckles. Her abilities in this form include flight, impressive speed and greatly increased physical strength. She has rarely transformed into this, and hasn't quite mastered this form yet.
Shining Pearl has the exact same features as Light Smash in both appearance and ability, as it is essentially the same form. She also has only transformed into this form once before, and hasn't mastered it yet.
Some of her hidden strength was shown in the remake of the Battle of Kaoru, when Pearl got angry and picked up Kaoru, then tossed her over her head with ease. It was also shown in the Shadow Crystal Cloud tournament, when Pearl attacked Rodney in her regular super form, while Rodney was in his final form. It took more than Super Smash and Krinkinko to get any damage through to him, but Pearl weakened him greatly with barely any problems.
General Info
Pearl currently lives with Smash and, at the same time, takes care of their old house. She's often found with Smash though, especially when something's up. Aside from being his sister, Pearl is somewhat of a sidekick to Smash--if Speedy isn't involved. The two work together well and have been through a lot. From solving mysteries together to fighting by eachothers sides to fend off dangerous threats.
When Pearl was arrested under false charges, years ago, she befriended an echidna named Vanessa, her jailmate. Vanessa was pregnant, though, and soon went into labor only a few days after meeting Pearl. She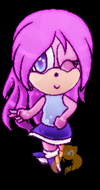 successfully gave birth to her baby, but she unfortunately didn't survive. Pearl then adopted the baby, wanting to raise her for her friend, and named her
Sandy
. Though She had Smash help her out for the most part, Sandy grew to be a healthy and cheerful child. She's currently 5 years old now.
Whenever she's needed somewhere on an adventure, she'll let her sister-in-law, Shada, babysit Sandy for her. Sometimes she'll let Luna do it as well, since they pretty much live together, but she doesn't want to put too much pressure on her.
Pearl generally likes to hang out with her friends most of the time. She enjoys cooking and making snacks for them, as well. She's known for making very good pizzas and cakes. She can also make some pretty good fried chicken.
Pearl often goes to Angel Island to visit Kyle and his family. Since Angel Island is usually in the sky, Pearl borrows either the Magic Wings or the Jet Board from Gizmo to get up there.
It's hinted that A lot of guys try to hit on her. So much that it's become a running gag, now.
Items Currently In Possession
Flower Elemental Diamond: A strange and extremely rare kind of diamond with a beautiful flower inside. Pearl recieved this from Luna, her sister-in-law, on the day they met. She wears it as a necklace, which conveniently makes the flower within bloom. Despite what it may sound like, it does nothing special. It's simply just for show.
History
Pearl's physical appearance didn't change much over the years. The main changes were made to her clothing. She at first was supposed to wear an outfit quite similar to Cream the Rabbit's. She also wore sandals like Tikal. Then she changed and got her own outfit. The same one she wears now, except she wore turquoise shoes with several straps of the same color going across it. It looked pretty messy. Then she got blue boots later on, and then finally the last touch was made to her shoes with the cyan stripe going across.
In terms of personality, She hasn't exactly changed much. She's just developed into a better character over the years. The main glaring problem about her was her old back story which was scratched. It pretty much ruined her character by existing. And it made her look over emotional. Another thing about her was the fact that she was always the damsel in distress, and couldn't do anything to fight back. This is probably the reason why Smash is training her in self defense. However, she should have been able to lay at least a scratch on the enemies back then. She also had been pretty useless and got in the way. Then later on, she became just as overpowered as Smash was--yet she still couldn't fight any enemies who attempted to kidnap her.
There was also the fact that she had a crush on Knuckles. Knuckles never showed any signs of liking her back, but it was still bothersome. She can't have a one-sided crush forever. It's time she moved on.
Then there's the issue with Sandy. Sandy appeared in the fanfic that sprouted the RP "Smash And Pearl: Ace Detectives", where she was born and adopted by Pearl. Since she belonged to someone else, Sandy didn't get much attention in the rest of the episodes. In fact it was almost as if she never even existed in the first place. It was only in the RP's with Alestar13, the author of the fanfic and creator of the character, when Sandy would ever actually appear. That issue will soon be resolved, in the fanfiction re-write of the series.
It is relieving that she has been fixed up.
Appearances
Look Here for the Roleplay Series.
☆ = RP has been completed.
? = RP has stopped for any number of reasons. Or has never began.
---SECTION UNDER CONSTRUCTION---
Fanfictions
Memories of David The Echidna: She has been a big help in solving the mystery alongside Smash. She is one of the main characters of the story.
Other Appearances
Splice The Hedgehog (RPG Fangame)
Relationships with Other Characters
Family
Pearl's family is rather big. Her parents names were David and Sarah the Echidna's. David was a well known fighter at the Blitz Pit in his time. Even though they both passed away, she still has her other family members. She has a grandmother named Rose, her uncle Spikes, and her two cousins Crash and Diamond.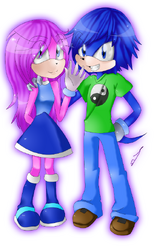 Ever since the day Pearl's parents passed away, Smash took care of Pearl by himself. He cares for her a lot, and does whatever he can to keep her in safety and good health. The two of them get along very nicely. Pearl of course loves him lots and cares for him as well. She's often the one to make the meals in the house, since she is the better cook. However, Smash does cook on occasion. And he's not too bad at it either. (Given the fact that she was around 12 years old when Smash started taking care of her, he kind of had to be.)
He constantly trains her to be just as strong (and someday stronger) than he is.
Crash The Echidna
Pearl likes Crash's goofiness. It's actually unintentional, his goofy personality. He probably doesn't even notice how bumbling he is. She thinks that he and Speedy should try to do something together.
Diamond The Echidna
Pearl and Diamond act like sisters towards eachother. They're pretty close.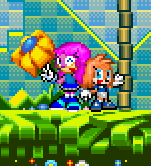 Sandy is Pearl's adoptive daughter. Her real mother was an echidna named Vanessa. She happened to be pregnant, and ended up dying from child-birth. Pearl decided to raise her daughter for her, as they had just become good friends, and even named her after her. Sandy is as healthy and cheerful as can be, now, though she doesn't know anything about what happened to her real mother...
Friends
(Official Characters)
Sonic The Hedgehog
Pearl knows Sonic mainly by the stories he's heard about his adventures.
Miles "Tails" Prower
Pearl rarely sees Tails, and doesn't know him too well.
Knuckles The Echidna
Pearl met Knuckles some years ago, and often she and Smash had to go see him for various reasons. Pearl eventually fell for him. She's rather shy around him and never actually expressed her feelings towards him. It's unknown how Knuckles feels about her though. She's gotten over her crush and moved on.
Amy Rose
Pearl doesn't really know her too well. She knows that Violet is friends with her, but never actually met her in person.
Shadow The Hedgehog
Pearl isn't too fond of him. She's seen how Smash gets along with him, and doesn't really approve of Shadow's attitude.
Rouge The Bat
Pearl doesn't like Rouge at all. She's heard from Knuckles how she pretty much torments him about the Master Emerald and flirts with him at the same time. Atleast that was how Knuckles put it.
(FC's by same creator)
Violet is her number one best friend. They hang out in their free time and do just about anything together.
She's on okay terms with Splice. The two rarely talk together, but they still see eachother as friends.
Pearl thinks of him as more of Smash's friend than hers. She just feels like an acquaintance. The same goes for the rest of her brothers.
She had teamed up with him in Camp Crystal, where she actually got to know him a bit more. It was still kind of odd, but they see eachother as okay friends.
The two have steadily become great friends. She's probably the friend that Kyle see's the most often.
Being Kyle's twin sister, Pearl is good friends with Keela as well. With her energetic personality, She and her get along pretty well.
Crystal is her best friend, next to Violet. Despite the huge age gap, they both get along very well. Crystal looks up to her like an older sister.
They've become great friends over the years. Pearl often comes to his house to borrow stuff, but lately she's been staying a bit longer and just visiting.
Pearl and Amber are on good terms with eachother. She took care of her along with everyone else while they were at Smash's house during "The Secret of the Mutants".
(Other Fancharacters)
Speedy is a good friend to her. They get along nicely. Pearl is very careful around him, though, to make sure she doesn't do anything that would make Violet jealous. Of course, Violet trusts her enough not to get jealous.
Luna The Hedgehog
Luna is Pearl's sister in law, now that Smash married her. They both get along very well, and act like sisters to eachother. One of the reasons why Pearl still goes to their old home is to give Smash and Luna some space.
Shada The Hedgehog
As her sister in law, Pearl shows respect and kindness towards her and acts like a caring sister. She knows that Shada is a very good babysitter, and likes to let Sandy spend some time with her on occasion.
Sam The Hedgehog
She gets along with him better than Smash does, that's for sure. But she still feels somewhat bad about rejecting him when he asked her out.
Lily The Hedgehog
Lily is a strange one indeed. As a part of the gang, Pearl hangs out with her every now and then. Although Pearl really, really does not like it when Lily comes over to visit. She absolutely despises having to "clean up" behind her. (Which includes peeling lady bug stickers off of the windows, walls, doors, and refrigerator.)
Hyper The Hedgehog
Another person Pearl had to take care of in "The Secret of the Mutants". She can't help but feel great sympathy for him after all he's been through.
Another member of the gang. She comes to Smash's house every now and then, and Pearl always makes a treat or two for her. Tab enjoys the pizza's she makes. They're pretty good friends.
Shade The Dark Chao
Shade is a very spiteful and rude guy, but he's pretty good when it comes down to it. Pearl is often rolling her eyes at his constant sarcasm and rudeness. She tries to stay out of his way for the most part.
Enemies
Pearl has few enemies, but they all were ruthless and threatening.
(Official Characters)
Dr. Ivo Eggman Robotnik
A classic villain. Pearl didn't pay too much attention to him, seeing how Sonic always took care of him. Though Smash would occasionally go off and fight against him. Pearl rarely accompanied him.
(Characters by the same FC)
Pearl has only heard about him from Kyle. A dark hedgehog that uses Kyle's name in his own, and attacked Tillia with an army of robots alongside Dr. Robotnik. She doesn't know much more than that.
(Other Characters)
Unknown Group
Over the years, Smash kept hearing about them, and how they killed their old friend, Jenny. He had an encounter with them, but only learned that G.U.N is also against them, which means that they are apparently a national threat. Both he and Pearl are still trying to find out more about them.
Brian The Hedgehog
Though this guy was put to justice already, Brian went through so much trouble to have her brother killed purely out of jealousy. Brian was a fighter at the Blitz Pit, who could never succeed because he couldn't beat Smash. Though she never faced him personally, she really hates him.
The man trying to conquer all of the dimensions. She is actually terrified of him, but he is the one who made her put so much effort into trying to achieve a "High Tension" state like Smash.
Memorable Quotes
~"...No. I won't stand for this. We can't let them take our world, our dimension, while we run and wait for death to come to us! And I'll fight for this world until the very end!" -Said during Odyssey, when she began to charge towards Marz in a rather bleak situation.
~"It has to work...It has to work....Please, WORK..." -Her thoughts during Odyssey while she tried to achieve High Tension.
~"I know he can do it. They may have all kinds of weird powers, but Smash can overcome them...He's strong and smart, and that's good enough for him. He always finds a way...That's my brother." -Said during the World Hero Tournament, while watching Smash's battle.