One of the main characters from Sonic and the Six Princes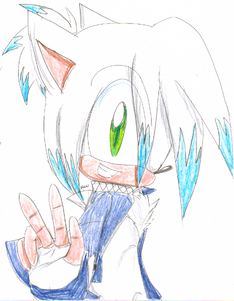 Prince Chill
Age
Birthday
Height
Weight
Eyes
Fur
Skin
Attire

Light blue Elen coat white diamond-like designs
grey gloves
white shoes with zipper and diamond-like designs
Royal Elen Duin earing

Home
Super Forms
Family

King Ryae(father)
Queen Lunaria(deceased mother)
Prince Ash(brother)
Prince Shock(brother)
Prince Tide(brother)
Prince Cloud(brother)
Prince Vine(brother)
Princess Fayore(cousin)
King Aero(deceased great-grandfather)
Queen Jhewel(deceased great-grandmother)
King Galax(grandfather)
Queen Estralle(grandmother)
Prince Limelyn(uncle)
Princess Myra(aunt)
History
He's the oldest prince of Elen Duin. He is next in line for the throne so he is constantly studying to be a great king. He is a little anxious to be king, however, the law states he must find a wife first.
Personality
He is very studious especially when he is learning about the kingdom and how to rule it. He is kind-hearted and never lets anyone down. He is easily irritated. When things get tough he becomes a little less self-confident.
Weapons
Khelek Megil
These double blades have been enchanted with the iceyness of the Losa Mountains. Each strike make the enemy freeze in its tracks
Khelek Leuthil
The mystical gem of Orod en' Losa. Its gives him the ability to transform into Khelek Fea.
Losa Tincmaeg
His hand-picked dagger. He excells at throwing them far distances and almost never misses.
Abilities
Ice Blades
He allows his duel blades to launch a crystal-like ice bullet from the blade for a powerful range attack.
Icicle Charge
He creates a shield aura around his body and charges at the enemy for protection and a cruel melee attack.
Ndengina Tuulo' Khelek
This powerful move freezes an opponent's legs, keeping them still. Chill then does a series of combo attackes and slashes them all!
Super Transformation
Khelek Fea
Khelek Leuthil glows and transforms him into a figure if frosty-like aura. The air around him becomes blistering cold and his duel blades turn to ice.
Friends
Prince Ash
Prince Tide
Prince Shock
Prince Vine
Prince Cloud
Amber the Hedgehog
Pixie
Quora the Cat
Jade the Vampire
Whimsy the Nymph
Tiara the Racoon
Princess Willow
Sonic the Hedgehog
Enemies
Valenor the Sorcerer Fox
Fang the Vampire Prince
The Three Thieves
Prince Limelyn
Theme Song/Voice Actor
Sonic and the Six Princes
Prince of the Cold
Extreme Gear
Ice Shard
Board made from Elen metal. It is a fly type board that turn into a yacht.
Quotes
Win
Lose
"I shall do greater next time" - getting a D rank "I thought I had that one!" - getting an E rank
"I have disgraced my father's name" - getting a F rank
Other
"I'll freeze you in your tracks" - performing Ndengina Tuulo' Khelek
Trivia
he is based on Prince Calder from The Six Princes, a book I am writing
he is uncomfortable around women
Pictures
Ad blocker interference detected!
Wikia is a free-to-use site that makes money from advertising. We have a modified experience for viewers using ad blockers

Wikia is not accessible if you've made further modifications. Remove the custom ad blocker rule(s) and the page will load as expected.