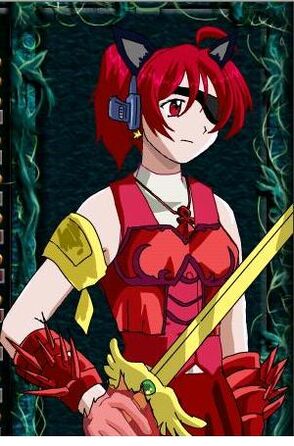 "I will restore balance to the whole world... even if it means sacrificing my own life!"
—Princess Monohime

Princess Monohime is the last princess of the Monohime empire. She plays a crucial role in Sonic and the Cursed Empire. She is half-Mobian, half-human. (You can tell because of her ears! )
Backstory
In 2021, the princess before Miyuki came down with a terrible illness. Miyuki took care of her as if she was her sister. Eventually, the princess died, and Miyuki's father, Lord Monohime made Miyuki the Princess. She then ruled the Monohime empire for 8 years. Unfortunatly, Lord Monohime died in 2029. He had a strange heart virus and he could not outlive it for long. He never even knew that Miyuki was half-animal. She then vowed to avenge her father and everyone in her family. She then ruled everything in the Monohime empire. But invaders from other countries took over and Miyuki needed help. Onlya certain hedgehog could help her. Miyuki and Sonic drove off the invaders and brought peace back to the Monohime lands. Miyuki then continued her rule.
Princess Miyuki Monohime
First appearance

"Sonic and the Cursed Empire" (2011)

Appears in
(games)

None

Appears in
(other media)

None so far

Creator
(real-world)

User: Darkblood234

Artist

User: Darkblood234

Voice actor(s)
(English)

Laura Bailey (2010-2011)

Voice actor(s)
(Japanese)

Chise Nakamura (2011)

Species

Human

Gender

Female

Birthplace

Tokyo, Japan (2001)

Age

16

Hair

Red

Skin

Peach

Eyes

Red (excluding left eye)

Family

Lord Monohime (Father)

Sabrina Monohime (sister)

Alignment

Good
Why she wears an eye patch
Miyuki's eye was shot out during the invasion. She also has a hidden power inside of her right iris.
Friends
Sonic the Hedgehog (Best Friend/Romantic interest)
All the rest of Sonic's friends
Enemies
Family
Lord Monohime
Sabrina Monohime
Special Powers
Flash of Darkness
Miyuki's hidden power inside of her left eye. It turns her enemy inside out, killing them in one shot. This severly damages her eyes but it's worth it.
Angelic Flash
The Winged Sword that Miyuki wields has a special ability inside of it, as well. It fires a continous field of Light energy. It can burn enemies to a crisp.