Shadic the Hedgehog
Talk

0
12,375pages on
this wiki
Shadic is a fusion of Sonic and Shadow, by use of "chaos unification". He is first
seen in
Sonic: Nazo Unleashed (Stage 3)
on
Newgrounds
by
Chakra-X
. He can go Super through use of the Chaos Emeralds, or Hyper through use of the Super Emeralds. While in Hyper Form, he beats Perfect Nazo quite easily, but has more trouble with him
, when he powers up to his "Hyper Perfect" form. Shadic also has a form called True Hyper Shadic where he uses both the negative
and
positive energy of the Chaos Emeralds and finally defeats Nazo.
Appearance
Shadic is a blue hedgehog with red streaks on two of his spines. He wears Sonic's gloves and a mix of Sonic's and Shadow's shoes.
Powers
Shadic bears many of Sonic and Shadow's powers, some of which are combined. Although Shadic only used his powers in his Hyper Form, it is not confirmed if his powers are still usable in his base form, except for Chaos Wind.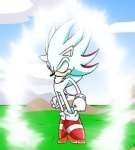 Fan Fictions
According to Tailsman67 Shadic is also going to shown in episode 99 for season 3 of the up coming flash show and role play Sonic Gx fighting Mephiles the Dark and Scourge the Hedgehog fuse to make Scourphiles,and Ashura is forced to fuse with Cold to help Shadic.