Home
Talk

3
13,092pages on
this wiki
Hello ladies and gentlemen of all ages, welcome to the Sonic Fanon Wiki; a place where you can bring your dreams and imaginations to life, forthposting them into reality. Everyone here welcomes your creative thinking, and we hope we can help you as much as you can help this Wiki.
Right now, there are 13,092 articles and growing! Now that's a shockingly high number of articles, and hopefully you can add to that figure. See you soon!
Also, if you need to communicate with some of the admins quickly, or wanna come and have fun with some of the regulars, you can find some of us here

Overview · Wiki tutorial · Help pages · Forum · Announcements
Roleplays
| Subject | Last Edit | Last Author |
| --- | --- | --- |
| The Island of Doom | 20:58, May 22, 2013 | Journey125 |
| Planet Elilaela | 15:40, May 22, 2013 | 92.4.217.139 |
| The secret of robots | 14:34, May 22, 2013 | 92.4.217.139 |
| User's Royale | 19:20, May 21, 2013 | 92.4.220.246 |
| Eggman Revoloution | 18:54, May 21, 2013 | 92.4.220.246 |
| The Nightfall Incident | 00:34, May 21, 2013 | Nukeatomic |
| Lessons in Love | 19:06, May 20, 2013 | Little michael |
| Battle Tournament XL | 16:56, May 20, 2013 | 65.121.54.190 |
| A Pet and it's Mobian | 23:24, May 19, 2013 | Warrior4ever |
| The Worlds Enemy (Revival) | 22:26, May 19, 2013 | Monk the Cat |
See More
Featured User
TheSkullWolf

# 1. Q) When did you first join the Sonic Fanon Wiki?
A.) I joined the wiki back in early July of 2012, so it has not even been a year since my arrival.
# 2. Q) What were your reasons for joining SFW?
A.) I first stumbled upon SFW while looking for ideas for a story (The original idea was a story about Eggman switching bodies with Sonic in order to defeat Sonic with his own speed). After I took a look at a few of the articles and discovered that people actually did roleplayed here, I decided to stick around and maybe create a couple of my own characters. It took me two or three days to open up enough to join the wiki chat for the first time.
# 3. Q) What are your other interests besides Sonic?
A.) My other interests include playing video games, writing stories, and origami. (Origami mode, activate!)
# 4. Q) What are the origins of "Merrp"?
A.) For those of you that don't go on the chat often, "merrp" is a common phrase that is frequently used on chat and basically has no meaning whatsoever. I actually wasn't the one who came up with the word merrp, so if you actually want to know, then try asking my merrp buddy.
# 5. Q) Favorite Sonic character (from any medium)?
A.) Big the Cat. He's so misunderstood, and fluffy. And we both enjoy fishing.
# 6. Q) Most hated Sonic character?
A.) Fang the Sniper, specifically in Sonic the Fighters. Him and his cheap popgun...
# 7. Q) Who was your first Sonic fan-character?
A.) My first character was named Spine the Hedgehog. I made him a couple of years ago as the main character of a sprite comic series that I never publicly released (Unfortunately, I lost all of my files for the sprite series on my flash-drive awhile ago). I'll never forget Spine, but he will probably never see the light of day again.
# 8. Q) What do you like most about the wiki?
A.) I enjoy going on chat everyday and talking to my friends, roleplaying, or just going along with whatever crazy randomness is occurring.
# 9. Q) Who are your closest friends on SFW?
A.) Don't make me choose! ;w;
Just kidding. My closest friends would be HauntedPhantom, Monk the Cat, Bitbyte1214, and Gamedezyner. (For anyone that I didn't mention, I'm sorry. I can't mention you all, and you're still considered close friends to me.)
# 10. Q) What's your favorite memory of your time on the Sonic Fanon Wiki?
A.) When I first brought my character Dizzy the Energyfrog onto the wiki chat. Everyone's initial reactions to him were so positive, and Dizzy is still one of my favorite characters to use on the chat. Wibbit!

Congratulations to our new Featured User! Now, who will be next month's featured user? Let's see!
Next Featured User of the Month!
Featured Article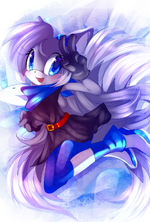 "What you did to me that day affected who I am today. It's not my fault I ran away. I felt like I had a reasoning, a better purpose. I'm only raising my voice because I want you to finally hear the words I've been wanting to say! I'm tired of my abilities being underestimated because I'm a kid, as if my opinion doesn't matter because of my age, and I'm tired of letting you and other people lie to me!"
—Page quote
'(Begasu Shirubāsunō ラスベガス シルバースノー)Vegas Silversnow the Fox Hybrid is the Main Character and Fursona of MoonlightVegas on Deviantart and VegasFox on SonicFanon. Vegas is an overall goofy, relaxed, and seemingly easy-going character.
She is rarely ever serious around friends and family, but usually comes off as boring, quiet, and mature around indviduals she doesn't know. She tends to have a very weird sense of humor, and usually as a joke comes off as rude, but because of her overly kind nature, being TOO rude is never intentional and usually her just trying to be silly.
---
This is our first ever Featured Article Interview. Though it's plenty late, I managed to get it in before the month ended! Our first interview is with Vegas the Fox Hybrid and the user, Vegas Fox!

1. Q) How do you feel about being the new Featured Article?
Vegas: Well I knew I had it before but…I got it AGAIN?? I'm really not all that special to get this it's such an honor ;w; (All my people are JEALOUS. Jealous I say! HAHAHAHA.)
I honestly didn't think she would get it again! How do I feel about it? I'm SURPRISED, and extremely happy about it :D I mean, my little ol' black Tails recolor is getting fanart and featured articles now! I'm proud of my progress and my ability to have created a character people love without even getting the story down officially yet! :'D

2. Q) To the creator, when did you first come up with the idea for Vegas? And how?
Well, what had happened EXACTLY was, my younger brother was watching Sonic Unleashed playthroughs, I didn't care much for Sonic at all at the time, so I was having fun poking at him for liking such a childish game XD But I did have this HUGE thing for werewolves and transformations. I fell in LOVE with Sonic's werehog design and figured I'd give Sonic a chance. I tried drawing her from scratch but I wasn't at all familiar with Sonic style so I ended up drawing Tails with nine tails, eyelashes, and black fur.
After that I decided I'd take a different approach, I used the Sonic character creator to get a good idea of what I wanted, and I slowly came up with my own idea and designs constantly drawing her. So I can honestly say she KIND OF started as a recolor but I never actually RECOLORED.
After awhile I got more and more into the Sonic fandom and decided I'd put my personality and a bit of my story into her character whilst keeping her original and not too overdone.
How I created her was purely off of imagination and feelings :)

3. Q) Where was your first official appearance?
Vegas: Hmm….my first appearance was DEFINATLY on that Deviantart website on some old trash my creator drew >IUAt least that was my first appearance alone. (Saying "my creator" because she threatened to destroy me if I said her name out loud ;_; This is horrible) And the first piece of artwork I was found on by someone else was by an artist who drew me and kid Sonic after reading the story my creator wrote about us. Which she has scrapped as of now like it never really happened. I shouldn't even be talking about it :'D

4. Q) Where was your first appearance on the wiki?
Vegas: It was either at that awesome pool party or at that hotel I decided to vacations at :D

5. Q) What are some of your hobbies?
Vegas: I like drawing and dreaming really ;O; I'm a boring person I am competitive though and I love playing sports ESPECIALLY Softball, I WILL MAKE EVERYONE TREMBLE AT MY FEET IN SOFTBALL >:D

6. Q) What was the best moment you've had in any one of your appearances?
Vegas: Hm…that's a toughy since I haven't had a chance to appear in much but a few adventures. I think it was when I came up for the plan when I had to save the world from blowing up! I'm SOMETIMES good at coming up with ideas I wasn't as sure of myself as I was making myself out to be I'm glad we DIDN'T die…I don't think! :D

7. Q) Who are your friends around here?
Vegas: Oh bwuh I have SO many friends here, I think the most notable are Johnny, Gizmo, and Isaiah :D And all my clone sisters of course! They might be stalking me right now actually e_e

8. Q) Is there any character you really dislike?
Vegas: In general? I try not to really not like anyone I mean there's a character outside of here who I think I may conflict with a lot but I'd rather not mention her name X'D If you're really wondering, I only dislike characters that take me past my limit emotionally and mentally. Maybe it's because I like to think I understand everyone and when they're stubborn and only prove not to listen to me I start to kind of hate them for it D: It's not often people actually get me there though so I don't really dislike anyone! >W<
If you're wondering, there IS someone I have a problem with and her character might as well be rivals with Vegas or something just not on a friendly level XD

9. Q) What is one thing that you are especially good at?
Vegas: Understanding people's emotions and controlling my own, but when I do lose control there's not much I can do afterwards and a problem might be caused. My powers of understanding and feelings are stronger than I realize, and I'll never ever really fully figure them out, that's just the way it is, I just have remember and accept that ALL people's minds and feelings are fragile, and it takes a strong heart to be able to control them and an even stronger one to understand and accept them.
10. Q) To the creator, what are your future plans for Vegas? Are there any new stories that she'll take part in?
Yes actually! I cancelled the Return of the Dark Gate comic because I realized Vegas was too complicated and spread of a character to be involved with canon, and there was so much more I could work with on a fan character series. The replacement series has no definite name yet but the storyline is SO much better and the characters are original and easy to relate to, I'm looking forward to starting it!
Aside from my stories, Vegas is supposed to be making a cameo appearance in Venus's comic. And whether or not she'll be a minor or major character I don't know, Venus was looking for characters to be Venus's friends, or citizens in the background, but I can't wait to see her in it regardless, especially considering Venus is one of my greatest idols. :)

Sounds like Vegas has got a bright future! Read more about Vegas here, or visit her creator's page!
Announcements
The SFW Improvement Blog (This here) has been updated, concerning the alteration of SFW policies and standards. Please take part and vote.
New policies are in effect.
Starting immediately, only breaking/important news updates will be displayed in the Sitenotice (Monobook; at top of page,). All regular updates from Administrative Staff will be listed here and on the Announcements page. Thank you.
As of 18/01/11, crossover techniques and articles are allowed. To see the rules for said articles and how this came about, look here. Any articles that do not follow these rules will be deleted immediately.
Due to the impending move, all featured article/character/user nominations are on hold. Sorry for the inconvenience this may cause.
A move off of Wikia is in the works.
Congratulations to the Seven Fangirls From Hell on being the Featured Characters for October!
Most pages at SFW are now protected, whether semi-protected or fully protected. If you want to vandalize, DON'T. The page(s) will be protected and the user will be banned for being in violation of our Main Policy. Just a head's up!
Helpful Wiki Tips
When you're editing, always organize your articles into headers and sub-headers. It will look much nicer than keeping it together in one big page, and it will help other users find the section that they are looking for in your article.
When you create an article, be sure to categorize them appropriately into one of the main categories; Heroes, Anti Heroes, Villains, Objects and others, Locations, Super Forms, Roleplay Pages or Fan Fiction; it'll make finding your articles a lot easier.
Use the community as your helpdesk! If you can't do something or something's going on which is not right, then ask fellow users and admins for help. If we can't help, then you could ask on the Help Wiki!

Help Out!
Do you need something to do? Well then, help out!