Release Date: August 2011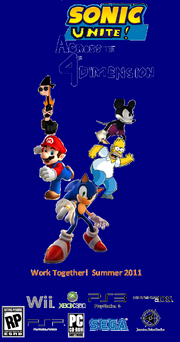 Published By: SEGA
Developed by: Junction Point Studios (Console), Griptonite Games (Nintendo DS), Backbone Entertainment (PSP), Aspyr Media (PC)
Platform: Wii, Playstation 3, Xbox 360, PSP, Nintendo DS, PC, Nintendo 3DS
Rated: RP (Rating Pending)
Plot:
Dr. Eggman, Bowser, The Shadow Blot and Sideshow Bob is going the destroy Springfield, Crystal City, Cartoon Wasteland and Mushroom Kingdom and Sonic, Knuckles, Amy Rose, Homer, Lisa, Bart, Mario, Luigi, Princess Peach, Mickey Mouse, Oswald the Lucky Rabbit and Ortensia has been sent to a Parallel Universe where Springfield, Crystal City, Cartoon Wasteland and Mushroom Kingdom is been Mixed. Can you help the character to get out to the Parallel Universe and defeat Dr. Eggman, Bowser, The Shadow Blot and Sideshow Bob.
Gameplay:
Play as Team Heroic (Sonic, Homer, Mario and Mickey Mouse), Team Brother (Knuckles, Bart, Luigi and Oswald the Lucky Rabbit) and Team Girl (Amy Rose, Lisa, Princess Peach and Ortensia) as you travel to a Parallel Universe and defeat enemies and you can switch character of your game, Similar to Nicktoons Unite and Sonic Heroes.
Level:
Mushroom Evergreen Crystal Street
Gremlin Kingdom
SonicJunk Mountain
Treehouse of Horror Manor
and more
Animation of the Cutscenes
The Opening cutscene and Ending cutscene is made of CGI, meanwhile the rest of the Cutscene is produced by Renegade Animation.
Comic:
In January 9, 2011, Archie Comics announced Sonic United!: Across the 4th Dimension: The Graphic Novel for IPhone, IPod Touch, IPad and Android.
Boss:
Giant Lard Lad Living Statue with "It's a Small World" Clocktower face
Mr. Burns with TRON Suit
Robot Captain Hook
Bowser
Sideshow Bob and Metal Sonic
The Shadow Blot
Dr. Eggman
Dr. Bowshadow Bob (Play as Super Sonic)
Trivia:
This is the Sequel of The Sonic the Hedgehog Game and the second games of the Sonic Crossovers Series.
This is the first Sonic Crossovers Series game that Phineas and Ferb doesn't Appear, Candace appear.
The sequel is named Sonic & Friends: All-Star Double Tag Racing, that coming in 2012.
A Teaser will be shown as a paper inside The Sonic the Hedgehog Game box.
Candace appear in a "Phineas and Ferb: Across the 2nd Dimension" Outfit.
Jeremy appear in this game.
Mr. Burns appear in the game in 4 mr. burns (Mr. Small Burns, Mr. Burns, MR.BURNSTRONIC and Burnie Pan)
Chip reappear in this Game
Sonic and Ortensia will be playable characters in Beta version in Summer of Sonic 2011 and Comic-Con 2011.
This is the first Sonic games that is presented in 3D for Nintendo 3DS and Playstation 3




Ad blocker interference detected!
Wikia is a free-to-use site that makes money from advertising. We have a modified experience for viewers using ad blockers

Wikia is not accessible if you've made further modifications. Remove the custom ad blocker rule(s) and the page will load as expected.