Super Shadow
Talk

0
13,080pages on
this wiki
Super Shadow
is Shadow's Super Form. Shadow's fur gains a pale golden hue in this transformation. Shadow's Chaos Powers are boosted greatly, and he also has the ability of flight and increased strength.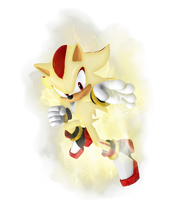 Fan Continuity
Edit
Super Shadow is playable against the last boss in Shadow's Storyline. Shadow runs into a huge robot that looks similar to Omega, except it's colorless titanium. The Chaos Conquerer introduces itself, and is incredibly powerful - it managed to withstand Shadow's Chaos Blast without a scratch. As Shadow prepares to fight it, the Chaos Emeralds slam into his back, and he channels a Super Transformation through them. Super Shadow then battles the Chaos Conquerer.
After the credits roll, a meteor that Shadow slammed into in the introductory scene is shown. The pieces of the Chaos Conquerer fly into it, and Shadow flies at it, still Super, burrows into its center, and opens a Chaos Blast, completely eliminating the Chaos Conquerer.
Super Shadow appears in Sonic Gx.

Shadow got arrested for speeding. He claims it was Sonic's fault but Sonic turned him in as Sonic couldn't resist the reward price
Super Shadow appears in Sonic X the Remake
Super Sentai Climax Goseiger
Edit
Shadow revives Samuel by using his Apollox's hibernated form to transfer a lot of core energy according to Shadow's explaination. An resurrected Samuel now become Apollox Samuel and use Superiorize to transform him, Emil/Ratatosk and Eureka themselve as Super Form without the Crystal Stars since they absorbed to defeat Apollox.