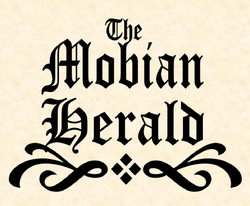 The Mobian Herald is a widely read newspaper that is published worldwide daily at various points around Mobius, where they are delivered to shops, stores and supermarkets. Began in 3132 by Reginald Arkwright-Jenson, the paper was initially hugely successful, but has declined in recent years mainly due to the Mobian Media Network's MMN News, radio stations and free online website. The Herald was purchased by multi-millionaire Jason McQueen not long ago, and has tried to bring up the paper's circulation by hiring Alyssa Warren as an advice columnist and capitalising on her. The editor is currently Elise Connors.
History
Creation and Early Days
After The Mobian Herald was created by Mr. Arkwright-Jenson, he sold it to the Broadcasting and Publishing Corporation (BPC), who sold Gemton Daily to the Mobian Media Network (MMN) in order to afford it. Memphis Cowling, owner of the BPC, expanded The Herald, and purchased the printing buildings belonging to Worldwide Printing Ltd. in order to publish the paper worldwide.
Contents
The Mobian Herald contains (or, at some point, contained) the following contents:
Printing Locations and Headquarters
The Herald was originally headquarted at the Broadcasting and Publishing Corporation headquarters just to the north of Blue Coast in Elsway. However, after its purchase by Jason McQueen, it was moved to a modern office building in Central City, UF.
Ever since Memphis Cowling's purchase of the Worldwide Printing Ltd. buildings, The Herald has been printed in over a hundred printing factories across Mobius. However, due to the Mobian Media Network and, more recently, the Prower Broadcasting Company, newspapers are considered "a thing of the past" by many, and The Herald is somewhat bankrupt, forcing McQueen's predeccessor to sell a few printing buildings to other companies.
Notes
Ad blocker interference detected!
Wikia is a free-to-use site that makes money from advertising. We have a modified experience for viewers using ad blockers

Wikia is not accessible if you've made further modifications. Remove the custom ad blocker rule(s) and the page will load as expected.