The Rigis Star System is one of the Largest Star Systems, it is well known for the Twin-Sided Star Rigis.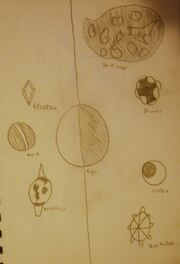 The Rigis Star System
Rigis
Rigis is the Star of the System. it is no ordinary Star, as half is a Star, the second Half glows Black, the Planets do not Revolve around Rigis (the planets still rotate), instead, Rigis Rotates clockwise.Rigis glows a bright yellow on one side. 
Delphonus
Delphonus is the most well known Planet in the System, it is called the Oasis Planet. Delphonus is home to the Claw Saga, in which a Tyrant named Claw. the First attempt, was where Dark Clouds covered the lands, Claw transformed the southern Continent Molterma into Metalerma. the Second attempt didn't exactly happen, instead, it was when a Metal Continent, Metallica, was being made. the Third Attempt involved a Giant Space Station called the C.L.A.W. Satellite.
Dinaro
Dinaro is a Special Uninhabited Planet, it is more of a cubed shape. it is home to many valuable metals.  
Crateria
Crateria is an Uninhabited Planet. it is known for a third of the Planet being a Crater
Roxia
Roxia is a Water Planet, with a strip of land the circles the planet. it is home to the Racia's race. the Racia's resemble Alligators with thin bodies, and stand on their hind legs
Crystalia
Crystalia is a small Crystal shaped planet. it is home to the Skeptle's race. Skeptle's are long lizard like creatures, they resemble a species of Dinosaur's called Raptors. Skepltes are Sentient Beings as well as being known for their welcoming Villages.
Zanduntas
Zanduntas is a Large Gaseous planet, with 4 rings. it is home to the Zoir race. the Zoir race debuted in the RP: The Zoir Invasion. The Zoir are "Intelligent Rocks", that use a large Robotic Body that hovers, these robotic Bodies have four arms with claws at the ends.
Dark Zone
The Dark Zone is a part of the Rigis Star System, Controlled by Lord Sinestia. this area never recieves light, even when Rigis is facing it, a star nearby is similar to Rigis, but it is completely Black, the light of this Star is blocked by two Planets, which causes this part of the Rigis system to be shrouded in Darkness always. this area is known for a Star Ship Wreck called The Cosmic, but the Special thing is, The Cosmic is currently being built, which means, this ship is from the future.....  
Gallery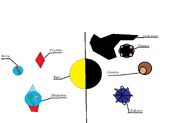 Ad blocker interference detected!
Wikia is a free-to-use site that makes money from advertising. We have a modified experience for viewers using ad blockers

Wikia is not accessible if you've made further modifications. Remove the custom ad blocker rule(s) and the page will load as expected.