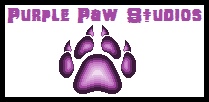 ~ This page is a creation of Purple Paw Studios ~
~~~~~~~~~~~~~~~~~
Basic Info
Full Name
Torrente the Cat
Species
Mobian/Siamese Cat
Appearance
Description
Fur:
Tuft's blue
and
Palatinate blue
Hair:
Black
Eyes:
Paris green
Biographical Info
Personal Info
Occupation
Water Clan soldier
Skills and Abilities
Skills
Skilled w/ longbow
Skilled w/ dagger
Abilities
Advanced combat
Torrente the Cat is a soldier that serves the Water Clan of Neso.
Physical Description
A slender Siamese cat who stands a little over three feet tall, Torrente has a medium-length, somewhat tapered muzzle, fairly large, pointed ears that stand upright, and a thin, medium-length tail.
Her fur is primarily Tuft's blue in color, with a Palatinate blue facial mask, ears, tail tip, forearms, and feet. Her hair, which is shoulder-length and curls up a bit at the bottom, is black in color, while her eyes are Paris green in color.
History
Childhood
Abilities
Base Stats
Stamina
Great
Strength
Great
Energy
Good
Durability
Average
Resistance
Average
Speed
Great
Reflexes
Great
Magic
Great
Kinesis
N/A
Intellect
Great
Other Stats
Eyesight
Superior
Hearing
Great
Olfactory
Great
Like the other Water Clan soldiers, Torrente is a fairly well-rounded fighter, who primarily excels in ranged combat; she wields a longbow as her weapon of choice, but also carries a dagger for extra protection. She is quite fast and agile, able to easily outpace slower opponents and evade their attacks; unfortunately, she is not terribly sturdy, and cannot take too many hits.
Torrente is an adept hydromancer as well, and primarily wields offensive, low to mid-tier techniques of the Water Element. Being a feline, she has very sharp teeth, and can deliver a punishing bite.
Water Abilities
Elementless Abilities
Status/Defensive Abilities
Resistances
Torrente is relatively resistant to the Elements of Water and Fire (her Water resistance is somewhat higher, however). She is also quite agile, able to dodge slow-moving opponents and attacks with ease.
Weaknesses
Torrente is weak to the Elements of Electricity and Nature. Her defenses are subpar, forcing her to rely on her agility to survive.
Friends and Foes
Friends
Allies
Rivals
Enemies
Personality
Graceful and haughty, Torrente carries an air of authority about her. She has a great deal of confidence in her abilities, and will gladly rise to any challenge set in her path. She has a tendency to come off as arrogant and cold, but is actually quite a social woman. She has no problems with getting her hands dirty in the service of her clan, but she hates having her tail touched or pulled.
Likes
Dislikes
Biggest Fears
Quotes
Notes
Her name is the Galician/Italian/Portuguese/Spanish word for "torrent".
Ad blocker interference detected!
Wikia is a free-to-use site that makes money from advertising. We have a modified experience for viewers using ad blockers

Wikia is not accessible if you've made further modifications. Remove the custom ad blocker rule(s) and the page will load as expected.