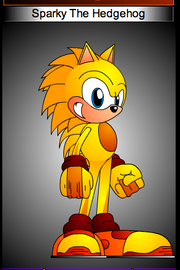 Hello people of the universe!
Welcome to my profile page, in case you have not noticed.
Anyway, I am a big Sonic fan (no duh) and I just want to have a bit of fun.
Anyway, this is my first time doing this stuff, so please don't be afraid to give advice to me.
I'm a nice guy, but keep in mind I despise anyone being mean.
I hate to admit it, but I have Aspergers syndrome. It's basicly mini autisim, but I'm not like that. I just have a hard time socializing and talking about things aside from what I like (Sonic being a perfect example).
I think that my Fan-Fiction will be good, by standards, and if there is anything you want to complement on or ask about, comment away!
I love video games in general, and really love using my 3DS. I mean, come on! 3D effects without the glasses, graphics that rival the Wii's, and PORTABILITY?!?!? What's not to love? O.K. Except the short-ish lasting battery, but I digress.
I will make my fanfics as I can and will post updates on by blog and on this page to show you were they are posted.
Hope you have a good time here. Chao!
Offline
Doin': Sleeping, then school
My thoughts of the day, which usually don't make any sense
Edit

1. Ever feel like you did something REALLY bad and wanted to go back in time to stop it? The feeling that your tummy just hit the floor? I freakin' hate that feeling.
2. Stupidity seems to be a virtue in today's pop-culture. I wish intelligence, originality, non-stereotypes, and actually being funny would take its place.
3. The world needs less violence and less bronies.
4. I really hate it when little kids don't shut up in the theater.
5. Always pull the right lever.
6. The world is weird.
7. Please, internet: just make sense for once!
8. Smashing things with a hammer is fun.
9. Get "Rayman Origins" or die.
10. Get "Shantae: Risky's Revenge" at all costs.
11. I'm waaaaaaiiiiiiiiiiiiitttttiiiiiiinnnnnnggggg!
12. I want Kingdom Hearts 3DS, NOW! Come on, Square Enix! You got about four months left: make em' count!
13. Just been pyscologicly scarred thanks to an amazing game: Batman Arkhum City. You do NOT want to know.
Characters
Edit
Roleplay Rewriting
Edit
Got a roleplay that you want to see written like a great fan-fiction? Well, you don't have to do the work. Well, kinda, but more on that later.
I'm willing to rewrite any completed roleplay you have and change it into something well written, kind of like my first roleplay.
I'm not talking about full rewriting; I mean giving more detail and turning those text-based chats into something you'd see in a book.
Example
Before: ???: *Laughs Evilly* You cannot defeat me, Sonic! *Dodges next attack and punches Sonic*
After: The mysterious figure laughed evilly, showing no mercy or care to Sonic. "You cannot defeat me, Sonic!", he said as Sonic spin-dashed into him. The figure dodged that attack and punched Sonic right in the face, leaving a terrible bruise.
If you have some goodness within your soul, you can send me a reward such as a drawing of my characters. If it isn't something that huge, it's going to be free of charge. Give me some requests in my talk page and we'll talk business.
Favorite Sonic Games
Edit
1. Sonic CD remake for Xbox live, PS3, ect.
2. Sonic 3 and Knuckles
3. Sonic 2
4. Sonic Generations (both 3DS and X-Box 360 versions)
5. Sonic Advance (first Sonic game I ever played!)
Other Favorite Games
Edit
1. Rayman Origins
2. Mario V.S. Donkey Kong (The first one)
3. Legend of Zelda: Four Swords
4. Kingdom Hearts: 358/2 Days
Other Likes
Edit
Nostalgia Critic
Animated Disney movies
Video games in general
NOT doing homework
Maryxgil (Cool characters, amazing Roleplayer)
RayxCreamMaker/Gurahk (Cool Roleplayer)
Smash the Echidna (Hey. He's an admin. He's cool. He's a nice guy. Nuff said!)
VegasFox (She seems like a nice gal)