Hiya! I am Ultimate4Life, also known as the King of Awesomeness and a master of drawing. I draw lots of Sonic stuff, especially scenes from the Sonic games. I've aslo been making characters for quite a while, but a lot of them have been lost (I never used them for anything anyway)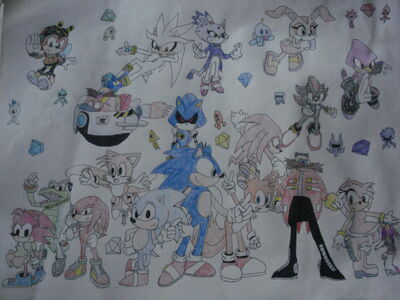 Characters

Edit
As I mentioned above, most of my characters have been lost. Here are my characters so far:
Ally the Cat
Aaron the Echidna (I think that's a real Sonic character)
Crisis the Echidna
Nega-Storm the Hedgehog
Maeve the Hedgecat
Mood: Slightly angry
Thoughts: Why do my friends not listen to me?!
Listening to: No More Room to Breathe - There for Tomorrow
Eating: Nothing
Doing: Doodling for no good reason
I play a lot of video games, mostly Sonic and Mario, etc. I have played most of the Sonic games, including the new Sonic Generations. I recommend it , especially Classic's gameplay (Except the Spin Dash is absurdly overpowered!) . I do feel, however, that giving Classic Sonic a Homing Attack ruined the whole Classic gameplay, so I barely use it. It does help for better times, which is a good thing for Crisis City. My SSBB FC is 3525-3178-8716. I forgot my Sonic Colors and my MKW FC. My top three favorite Sonic characters are Shadow, then Sonic, then Silver. I love Linkin Park and There for Tomorrow (I wish I had Maika Maile's hair.... *wants his hair*) and I wish LP's album would come out sooner. Can't think of anything else to tell ya, so... later.